Circus in Dowagiac
June 20, 2023
5:00pm - 9:00pm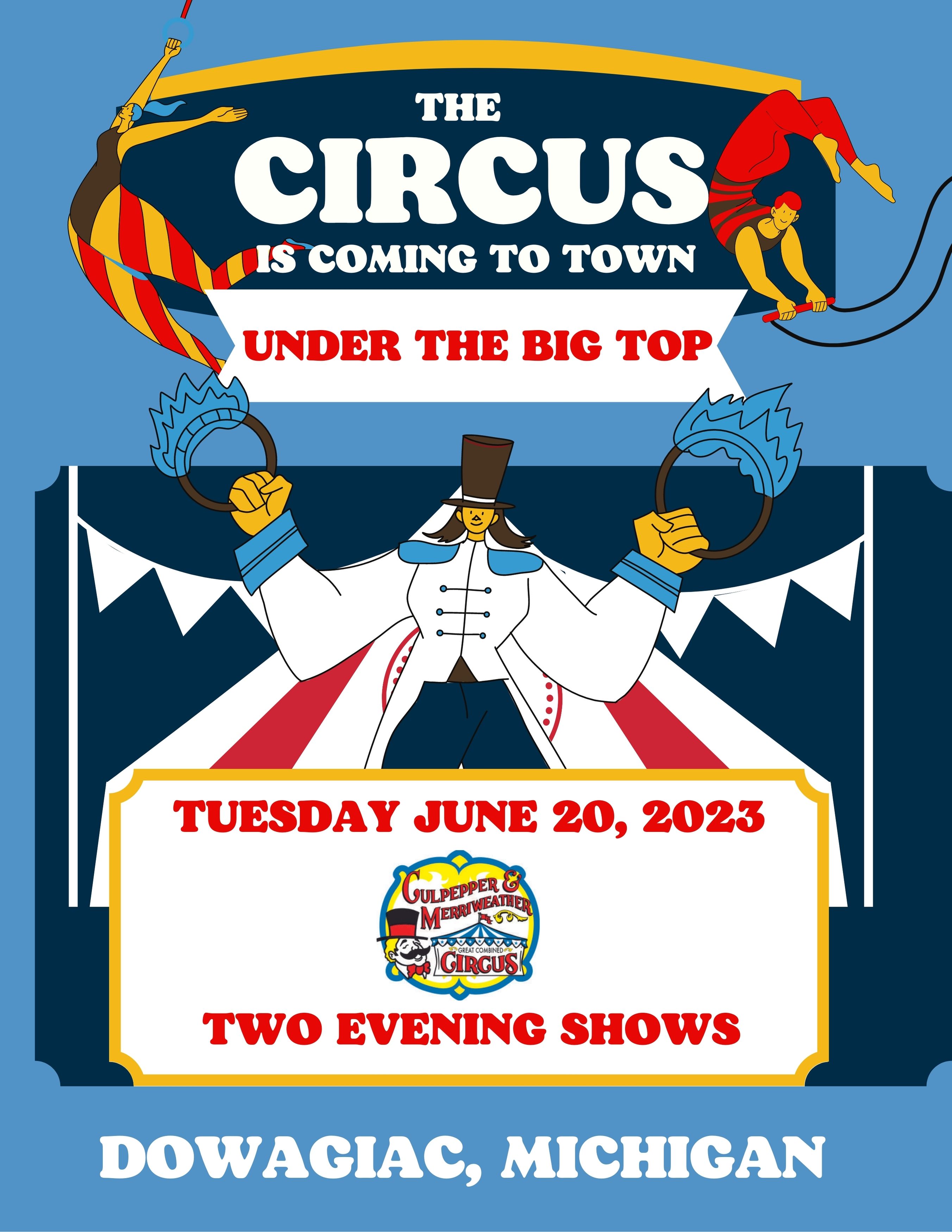 Culpepper and Merrriweather Circus
June 20
Two shows: 5 pm and 7:30 pm
Location: Amerihost Drive, Dowagiac, near the Tractor Suppy Company
C&M Circus has been providing quality, local family entertainment for 37 years. This authentic One-Ring, Big Top Circus has been featured on the A&ESpecial: Under the Big Top, Nick News: On the Road with Circus Kids and most recently OETA's Big TopTown. This year, we're very excited to bring you our brand new 2023 performance featuring Big Cats presented by Trey Key, our Aerialist Extraordinaire Simone on the trapeze, 10th generation Loyal Bareback Horse Riders, the Perez Daredevil Duo on the Tight Rope and Wheel of Destiny, ElizabethAyala's incredible foot juggling and hair hang and everyone's favorite Circus Clown Leo Acton.
Advance tickets available at Bow Wow Bakery & Bath, Caruso's Candy, Imperial Furniture, Miss Michele & Co, and Who Knew Consignment.
Additionally, Culpepper and Merriweather Circus' Skeeter The Clown will be in Dowagiac on Monday, June 12, making appearances at two locations where advance tickets will be sold. Skeeter will be at Biggby Coffee, 202 W. Prairie Ronde Street from 8:00 a.m. until 10:00 a.m., and then at Hale's True Value Hardware, 56216 M-51S, Dowagiac, from 10:30 a.m. until noon.
In advance: Adults $13, Kids/ Seniors 65+ $8
Box office day of show Adults $16, Kids/Seniors $9
Circus Day Schedule
9:30 a.m - Tent Raising & Tour
Everyone is invited to watch the Big Top rise! You'll also get a chance totour the grounds and get a behind-the-scenes look at our show! Learn about life on the road and the care our animals receive.
4:00 p.m. - Midway Opens
Pony Rides, Moon Bounce, Giant Slide, Face Painting, Concession Standand Box Office open up for some extra fun!
5:00 & 7:30 - Circus Performance
Get ready for an amazing show the whole family will love! Eachshow lasts about 90 minutes.
Website: cmcircus.com
Facebook: Culpepper & Merriweather Circus