A Great Place to Call Home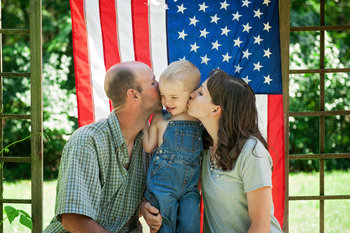 Dowagiac native Mandy Wallace moved to our nation's capitol after college, but returned to her hometown to raise a family and continue her career.
After living in the suburbs of Washington, DC, Mandy said she has a new appreciation for Midwestern small towns. "There is a real sense of pride that comes with living and working in a city where your neighbors care about you, your co-workers are motivated to come to work each day, and your child is safe on the playground. Browse any literature about Dowagiac and you'll see one word used over and over again - community. That's what we're all about here, from the way we run our businesses to the many activities and festivals held downtown throughout the year. Dowagiac offers everything I could hope for, when looking for a place to call home.'"
A Community Rich in Charm
For local resident and Realtor Dorothy MottL, Dowagiac has never lost its charm, which is something her clients, both residential and commercial, echo.
Owner of D. MottL Realty Group, Dorothy had her eye on our community for some time before purchasing a downtown storefront in 2013. With offices headquartered in Buchanan, the Dowagiac storefront today houses her second of three locations in southwestern Michigan.
"One of our clients said it best, downtown Dowagiac replicates a wonderful movie setting," Dorothy said. "Our central business district is comprised of quality retail and service businesses, live theatre and everything from thrift shops to upsale boutiques, and even a non-franchised hardware store."
For the homebuyer, Dowagiac boasts an assortment of residential architectural styles, featuring such amenities as fieldstone foundations and granite steps.
Where Families Care for their Own
As a downtown business owner of more than 30 years and president of ACTION Ministries, Jeff Neumann knows how deeply his community cares for its own.
"When a need is made known, the response is swift," Jeff said. "Whether it's during a time of tragedy, or someone simply wishing to show their kidness, families that comprise our community have big, caring hearts."
"Through the generousity of local farmers, merchants and individuals, the shelves of ACTION's food pantry are consistently full, as still others donate $20,000 each year to the Feed the Hungry campaign - mostly in small donations. These funds are shared with those in need to provide food from an outpouring of people who respond to the call. I am constantly reminded, as I see the gratitude of the served, how much families of our community care about one another."